The Salii seniores
This page created 4 July 2014, and last modified: 27 October (Frankfurt fragment image added)

One of the auxilia palatina units listed in the in the western portion of the Notitia in the Magister Peditum's infantry roster is called the Grati; it is assigned to his Italian command. Its shield pattern as shown in various manuscripts is as below:

---
Disclaimer: remember, I'm not an expert in the field of Notitia studies, so take my comments with a grain of salt...
---

The pattern has a green rim (faded to yellow in M; white in B) and an violet main ground - more indigo in the case of P, more purple in the case of B, and faded in the case of M, W, and especially Ff. It also features two canids (except in W, which has hares or rabbits) in brown (with lighter bellies in the case of M, Ff) facing each other; they are cut off just above the rear quarters (except in W, where the rear quarters are represented, but in white). No boss is depicted.
However, it is evident that this is the "wrong" shield pattern; like that of some other western auxilia platina units, it has been shifted from its proper place (or, to be more exact, the label has likely been shifted from its proper place). Rather, the above pattern belongs to the previously listed unit in the Magister Peditum's infantry roster, the Salii (seniores). Evidence for this comes from comparing this pattern with the pattern of the other unit of Salii, under the Magister Militum Praesentalis I, which also shows twinned wolves, albeit rather indistinctly shown in the case of the Parisian manuscript, P: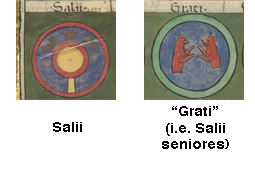 Shifting the patterns by one position in this region would imply that its is the pattern ascribed to the next unit listed, the Felices seniores that is instead the true pattern of the Grati. Further support for this shift is found by noticing that this shift also means the patterns of Felices seniores and the subsequent unit, the Felices iuniores also become similar to each other, bearing "hairy heads", as can be seen by comparing the corresponding patterns taken from the Parisian manuscript, P: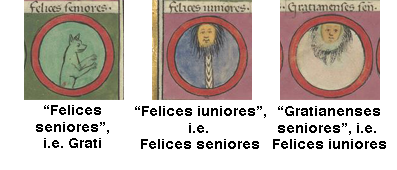 The name Grati might appear to derive from from the emperor Gratian (Flavius Gratianus Augustus), who reigned from 367 to 383; he was the senior Augustus from 375. However, all the other units clearly named after this emperor are in the form of Gratianenses (or in one instance, Gratiana). Instead, the name of the unit might be "exactly what is says on the can" - grati being the Latin not only for "thankful, grateful", but also "agreeable, pleasing, favoured"; this last meaning being most appropriate for a unit of relatively highly-ranked auxilia palatina.

Return to the Notitia alphabetical unit list page.
Return to my Notitia index page.