Indeed, as a feature of shield patterns in the Roman army, the motif's history goes back to as least as far as Trajan's time, as several examples can be found on Trajan's column, one of which is shown on the right carried by what appears to be an auxiliary man. Crescents also appear as motifs found on units' standards, usually near the base, under round discs, and thus probably symbolising a sun-moon combination.

Two other units in the Notitia share the name Batavi seniores; one is a senior vexillationes palatinae unit under the Magister Equitum's Gallic command, the Equites Batavi seniores (102/5.6); while the other is the 6th-ranked auxilia palatina unit in the western half of the empire, and assigned (102/5.65) to the Magister Peditum's Italian command. The shield patterns of these three Batavi seniores units do not appear to have any close similarities; that of the eastern unit does however bear some resemblance to the next auxilia palatina unit listed under the Magister Militum Praesentalis I), the Brachiati iuniores (9.25), in terms of colour scheme and also having a spiked boss.

An inscription (RIU 3,699 = CIL 3,10891; images here and here) from Hungary mentioning a T BAT has been expanded to "t(ribunus) Bat(avorum)", and is dated to 303. If the identification is correct, it shows the original Batavi auxilia palatina unit, like the Cornuti and the Regii, was one of the first of the auxilia palatina to be raised. When the unit was split between seniores and iuniores, and eastern and western units, and which split(s) came first, is not known for certain.

In the history of Ammianus, "the" Batavi are found brigaded with "the" Heruli (20.1.3; 20.4.2; 27.1.6; 27.8.7; note that Latin does not have a demonstrative grammatical article corresponding to "the" in English...); and in the Notitia, the Heruli (seniores) (98/9.38), stationed in the west, is indeed followed (98/9.39) by a Batavi (seniores), so it would appear that the Heruli and Batavi pairing in Ammianus corresponds to the Notitia's Heruli seniores and (western) Batavi seniores. In his description of the battle of Adrianople (31.13.9), Ammianus has the Batavi there, as part of the eastern field army, and placed in reserve; they are not mentioned in conjunction with any other unit. This unit would appear to correspond to the eastern Batavi seniores, since Ammianus implies that its men had taken flight during the battle, and thus saved themselves from destruction. The absence of an eastern Batavi iuniores in the Notitia may imply it was destroyed at Adrianople, but the two apparent units of Batavi iuniores in the west requires caution to be taken in accepting this hypothesis.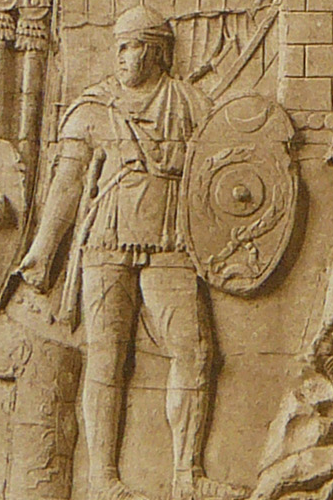 Detail from Trajan's column, scene 128.
A Batavian auxiliary?